The time of the two products late 2016's cult Samsung and Apple launch was imminent. This will be the smartphone is the most awaited mobile world village.

The phone line will be the new generation Note named Galaxy Note 7 to the unified product line called the Galaxy "S" is about to launch the iPhone .Apple 7 and may include three versions: iPhone 7, iPhone 7 7 Pro Plus and iPhone phablet with dual cameras.
 
Release time
According to the comments, Galaxy Note 7 will appear at the event unveiled the new phablet will be held on 2/8 in the US and will be available shortly thereafter. Meanwhile, the iPhone is expected to launch and sold about a month later, ie on September.
Design
Galaxy Note 7 is expected to inherit the style of Galaxy S7 edge design. Design metal edges, and curved glass top property on both sides.
iPhone 7 have remained faithful to the metal frame and rounded corners. Strip antenna crude down more and less protruding camera clusters are the new features of the iPhone improvement 7.
Performance
Phablet will use Samsung's new Snapdragon chip 821 in the US market and use Exynos 8893 for the remaining market. Meanwhile, 7-upgraded iPhone with Apple A10 processor for impressive performance.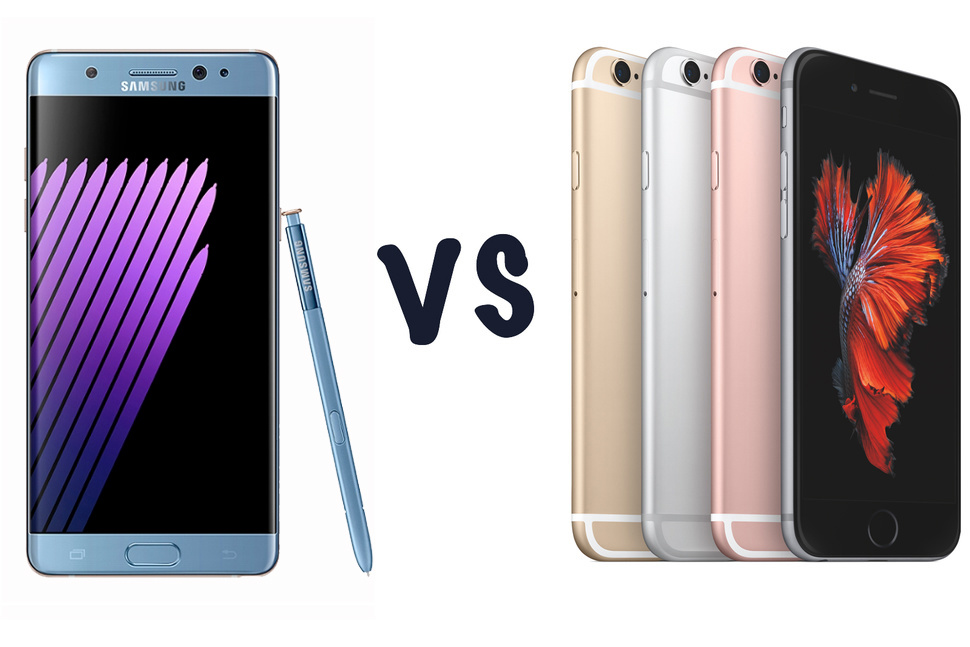 camera
The rumored Galaxy Note 7 and iPhone 7 will jointly own 12 megapixel main camera. However. Apple is still sticking with the traditional technology focus, slow speed. Samsung enhanced focus fast, extremely sharp with Dual Pixel Technology. Fans are putting so much emphasis on the dual camera 7 Pro will be available on the iPhone.
Battery and charger
hinh iphone 7 7 today nhoicon-hotiPhone great price, fell 10% in cash to customers who purchase may.muiten Watch now the latest price list for the iPhone 7 International here.
Galaxy Note 7 can own 3,500 mAh battery. Meanwhile, the iPhone 7 and iPhone 7 Plus will only 2,750 mAh battery 1715 mAh and. With this amount the iPhone 7 and Note 7 are using the full 1 day. However, Samsung's product takes about 1 hour to charge from 0% 15p and 30p loss to get over 70%. Meanwhile, the iPhone 7 will take about 2 hours to fully charge the battery.
Other features
Galaxy Note 7 will likely become the first Android unlock integrated in the retina. Equipment is also the first high-end smartphone is Samsung's support for charging USB-C. Waterproof features as well as the Galaxy Note plus 7.
Toughened glass durable new generation will appear on the iPhone 7 and Galaxy Note 7?
Toughened glass durable new generation will appear on the iPhone 7 and Galaxy Note 7? Users expect corning Gorilla Glass toughened glass used in Note 5 to 7 and iPhone 7.
Price
Galaxy Note 7 is priced around 800 dollars, iPhone 7 is priced around 650 dollars. And 750 USD for the iPhone 7 Plus, add $ 100 for a large memory version hon.Trong two brightest this handset, you impressed with what version better?